Let's just talk wedding timeline for a minute. Your timeline for your wedding day is the key for it to run smoothly and for you to be able enjoy the day to it's fullest. Funnily enough it's also the area we have to comment on 98% of the time when going through the day with our couples. While YOUR wedding is supposed to be YOUR day… as you are paying for it – most of our couples are terrified that their guests will get bored and therefore end up squashing everything together in such a short amount of time, so instead of enjoying the day, they end up stressing, moving from point A to B, smiling, eating, smiling, dancing, eating… and boom, where did the day go?
So, before we talk more about how to plan the perfect timeline, let me just highlight one important thing: Your wedding day is not for other people. It's for you! When being invited as a wedding guest, the invitation also comes with a responsibility to bring your party shoes and your good mood. Therefore, guests are never bored if they are good guests! So with that out the way, you can now plan the day you SHOULD have! Now, let's look at the 8 things to have in mind when planning the perfect wedding day timeline!!!
1 – When to start?
Your starting point will always be the ceremony. Maybe you are fully in charge over the time you are getting married, or maybe you are being provided with a specific time slot that you need to make work. As soon as you have your time slot you start planning everything before and after.

2 – Getting ready – Prepare for the unpredictable.
I can't stress this enough: Give yourselves enough time ladies. When things HAVE to work out, they just sometimes don't. And that's where time becomes precious. When you have prepared for the unpredictable, you won't end up running around with tissues under your armpits, blinking at the sky so your mascara won't run and forgetting to drink that lovely glass of champagne that you deserve… and need.
So make sure you have enough time to laugh and enjoy the morning with the people you love. And hey, remember to eat that breakfast. You will thank me later girl!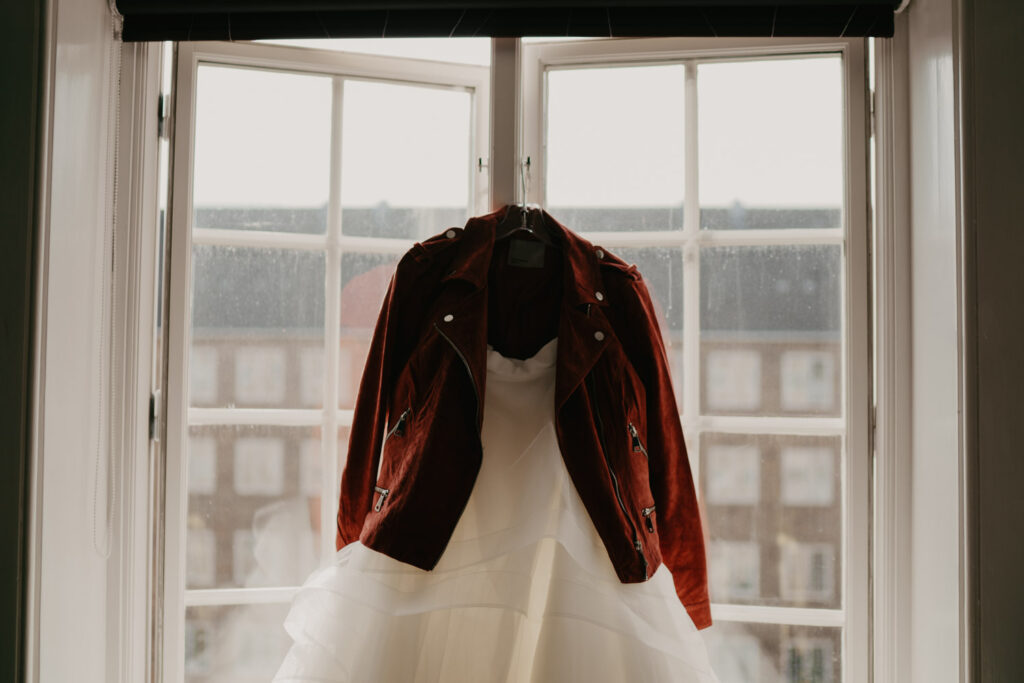 3 – Pre – ceremony. Grooms, this one is for you!
If you are having a traditional ceremony, it's good form for the groom to always be at the church or place of reception about 30 min. before. This gives him time to make sure everything is as it should be, receiving the guests and sweating a bit before it all kicks off.

4 – Post – ceremony.
Leave enough time to say your 'Hellos' and hugging your guests after the ceremony. It's such a nice way for all your gusts to share their love before you head off and the day starts rolling. We always expect this (depending on the size of the wedding party) to be between 20-30 min. including some traditional rice throwing and the mandatory snapchat and instagram pictures for your friends.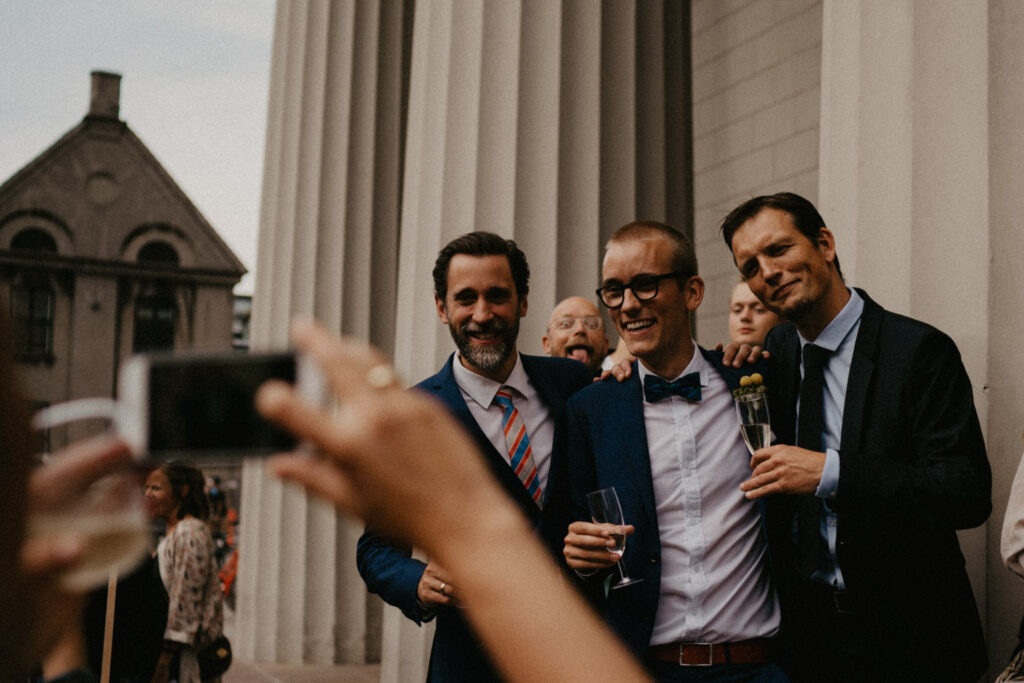 5 – AND NOW: The portraits. How much time do you need?
One of the questions we often get asked is: "How much time do we actually need for the portraits?" Honestly, I could give you a whole speech about this because this is our passion, but I'll try and make it short and sweet.
The portraits are not something you should rush! Unless you are part time models, having your portraits taken on a day where a lot is already going on is actually a bit stressful for the first few minutes, and you suddenly forget every single pose that you memorised from pintrest. But don't worry, we've got your back! However, set aside the time to have some fun with it.
As a rule of thumb we prefer to have about 1,5 hours not including logistics. Now you might think: "1,5 hours??? Are you mad girl?". I promise you though, you will love me for having enough time to get comfortable, relax and have fun during this part of the day. You need to view this time as your special time on your own. The rest of the day will be full of great company, but this 1,5 hours is just for the two of you, enjoying the day and each other.

6 – Know your seasons
So here's a sneaky little detail that can really mess up your whole timeline without knowing it… seasons. If you are planning to get married in a country with light summer evenings and pitch black winters, then that's something to have in mind.
If you've decided to get married out of season, let's say October, it's important to remember that the sun goes down a lot earlier compared to just a month before. So maybe the traditional order of doing things won't be ideal. But don't you worry, we have loads of ideas about how to keep it fun and romantic anyway!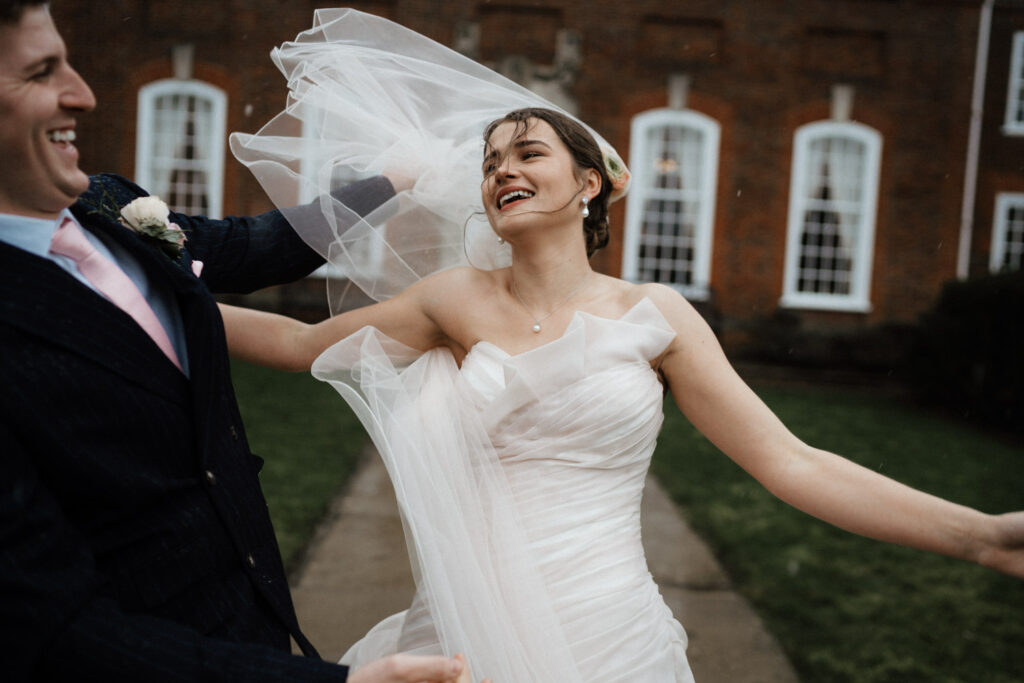 7 – Oh, but what about our guests?
While you are out having fun, having your pictures taken, pretending to be Gerrard Butler or Tyra Banks, your guests have probably been hanging around the venue whilst waiting for the guests of honor. And now you start panicking… what if they are bored?
Let me let you in on a little secret… we've never actually experienced the guests ever being bored. They have free nibbles and drinks, someone is watching their kids, they've dressed up and all they had to do was to show up and enjoy the day whilst everything is served to them. We promise you, they are simply having a blast, and so should you!
8 – Let's party, people!
We've now reached the time where you don't have much more control. The rest of the day is left in the hands of your toastmaster, the head chef, and your guests. However, by picking the right toastmaster, you can make sure that the speeches are kept to a proper length and that there's a good flow throughout the evening. We actually always give the toastmaster a call the day before just to go over the different events for the evening and making sure there's a good plan.

3 points he should have in mind: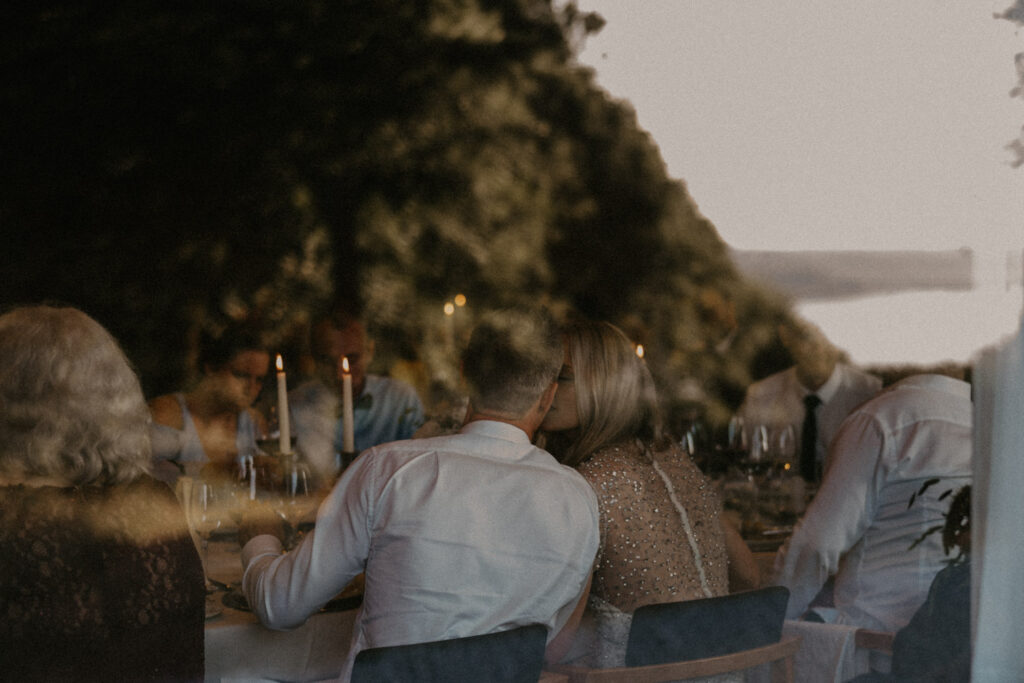 Decide who NEEDS to give a speech. It's not easy, but it's a good idea to limit how many speeches you want during your meal.
Group them. To avoid having to interrupt your guests chatting too many times, it's a good idea to group some speeches between meals.
Keep track of time. We've seen timelines getting completely out of hand because of 18 speeches and guests ending up sitting at the table for hours and hours. And I'll just say it now: tired and tipsy people don't dance… So don't let the music start too late!!
All there's left to do now is… TO PARTAY!